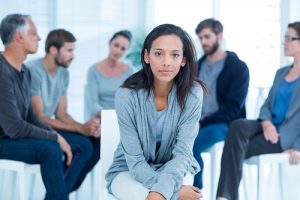 Coral Bay's intensive outpatient addiction treatment program is designed to be flexible, to accommodate the needs of adults who are are currently working or plan to obtain employment as part of their recovery journey. The program comprises group therapy sessions, as well as individual, one-on-one sessions with each client. Psychiatric appointments, medication management, case management services, and local sober living/housing are also available.
Group Therapy
Our convenient therapy groups are designed for working people, and take place on Monday, Wednesday and Thursday evenings from 6:00 to 9:00 pm with a break in the middle. Groups are limited in size for a more personalized, effective therapeutic experience.
In group therapy, clients will:
Increase their awareness and begin to understand how addiction impacts all facets of their lives.
Understand and challenge defense mechanisms, negative thought and behavior patterns, and other ways that addiction maintains itself.
Explore and identify relapse triggers in order to see a relapse coming well before a drink or drug is picked up, and develop a solid relapse prevention plan to head it off.
Explore underlying problems that lead to the abuse of substances.
Create an arsenal of tools and skills to handle life stressors, such as divorce, grief and loss,  relationship issues, job loss, and other transitions.
Explore and learn to cope with co-occurring disorders, such as anxiety, depression, bipolar disorder, and others.
Begin to use outside resources and groups, and develop a sober support network to increase accountability and maintain long-term recovery.
Individual Therapy
Individual therapy sessions take place once per week when groups are not held. Sessions are 50 minutes in length and take place by appointment only.
During their weekly individual therapy sessions, clients will have more one-on-one time with their primary therapist, in order to address any issues or concerns they don't feel comfortable sharing in group setting.
Psychiatric Assessment/Medication Management
Initial Psychiatric Evaluations, follow-up appointments, medication management and other services are provided on an individualized, as-needed basis by a Board-Certified Psychiatrist.
Detox/Residential/Partial Hospitalization Treatment
Whether you need to break free of the use of alcohol or other drugs like heroin, pain killers (e.g., Oxycontin or Percocet), benzodiazepines (e.g., Xanax, Valium), or others, we can connect you with one of our outstanding detox partners to ensure that the withdrawal process is as safe and comfortable as possible.  We know how critical this time is in your recovery process and our goal is to make the process smooth and successful.
Once it's safe for you to transition to a lower level of care, we can assist you in taking the next step, whether it's to a residential or partial hospitalization program, or directly to Coral Bay's intensive outpatient program. Of course the decision for the best course of action for you will be made in conjunction with you, your family, your physician and our clinical team.
Sober Living
Through special arrangements with select FARR-accredited sober living facilities, Coral Bay Recovery clients can have a safe place to live that's conveniently located near their treatment at our clinical offices.
Random Drug Testing (Breathalyzer and Urinalysis)
This invaluable part of the treatment program not only helps to keep clients safe, but adds a layer of accountability that actually makes many clients feel more re-assured and successful. This tool also helps family members and others feel more confident that the clients in our treatment program are safe and "doing the right thing" on a consistent basis. In other words, it provides peace of mind for all concerned, allowing everyone to focus on positive, lasting change.
To learn more or to get started with pre-screening, complete our easy Contact Form.