Intensive Outpatient Program (IOP) for Addiction
Coral Bay Recovery's Addiction Treatment Intensive Outpatient Program is tailored for those with substance use (e.g., drugs or alcohol) and co-occurring mental health disorders (e.g., depression, anxiety). It's designed to be flexible, to accommodate the needs of adults who are currently working, plan to obtain employment as part of their recovery journey or are pursuing their educational goals. The approximately 8-week program comprises three group therapy sessions, as well as a weekly individual, private therapy session with a licensed mental health professional. Psychiatric evaluations, medication management, case management services, and local sober living/housing are also available.
When clients complete our Addiction Treatment Intensive Outpatient Addiction Treatment program, they may have the option to step down to our Outpatient Program (OP), which comprises 1 to 3 group therapy sessions and one individual, private therapy session per week. This phase typically lasts two weeks or longer, based on individualized progress, needs and finances. This is the final step as clients prepare to discharge from treatment.
At Coral Bay Recovery, clients will have the opportunity to:
Learn the difference between being in recovery and "just being sober."
Learn a variety of coping skills and tools that can replace the need to fall back on mood- or mind-altering substances and old habits.
Identify relapse triggers and risks and develop a personalized, comprehensive relapse prevention plan.
When clients arrive at Coral Bay, we'll create a personalized treatment plan with goals and objectives that can help overcome their addiction to drugs or alcohol, as well as other problems that may be coming between them and their life's goals.
Co-Occurring Disorders/Dual-Diagnosis Treatment
It is rare that alcohol, drug, and other addictions occur in a vacuum. Frequently, clients who struggle with addiction have also been coping with other mental health issues, such as depression, anxiety, bipolar disorder, OCD, ADHD, personality disorders, disordered eating, and others. At Coral Bay Recovery, we address both the addiction and the co-occurring disorder(s), because they often go hand in hand. For some clients, their lives may be complicated by other issues, like time management, financial strain, career stress, relationship discord, or poor diet and exercise.
For those who need medication management for their co-occurring disorders, our psychiatric nurse practitioner partners are experienced in working with those who struggle with substance abuse. We also provide referrals for Medication Assisted Treatment (MAT), such as Naltrexone, Vivitrol or Suboxone treatment, on a per-client basis. Our integrative, multi-disciplinary team approach ensures that clients can receive the integrated benefits of both psychopharmacology and psychotherapy.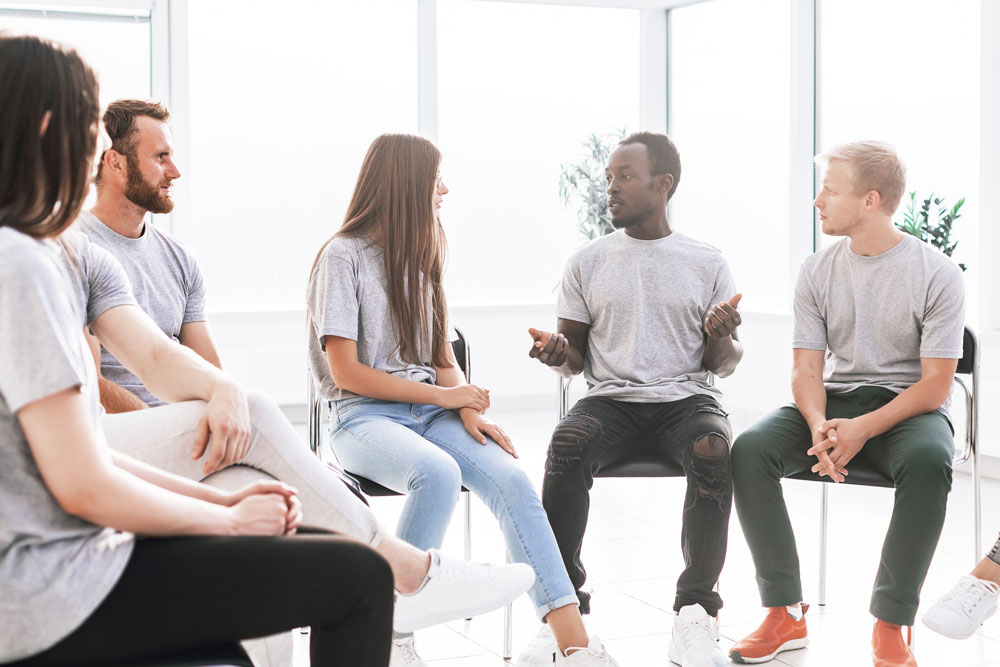 Group Therapy
Coral Bay Recovery's Addiction Treatment Intensive Outpatient Program offers convenient therapy groups that are designed for busy working adults and students, and take place on Monday, Wednesday and Thursday evenings from 6 to 9 pm at our office in Lighthouse Point, Florida. Due to the Coronavirus Pandemic, we are offering telehealth and in-person hybrid groups at this time. Groups are limited in size, for a more personalized, effective therapeutic experience.
In group therapy, clients can:
Increase their awareness and insight, to begin to understand how addiction impacts all facets of their lives.
Understand and challenge defense mechanisms, negative thought and behavior patterns, and other ways that addiction maintains itself.
Explore and identify relapse triggers in order to see a relapse coming well before a drink or drug is picked up and develop a solid relapse prevention plan to head it off.
Explore underlying problems and core issues that led to the abuse of substances.
Create an arsenal of tools and skills to handle life stressors, such as divorce, grief and loss, relationship issues, job loss, and other transitions.
Explore and learn to cope with co-occurring disorders, such as anxiety, depression, bipolar disorder, and others.
Begin to use outside resources, such as 12-step, SMART Recovery, Refuge Recovery, or another similar peer-led group, and develop a sober support network to increase accountability and maintain long-term recovery. Regardless of the program or group chosen, connecting with others in recovery is key to long-term success.
Individual Therapy Sessions
Each client's individual therapy session takes place once per week when groups are not scheduled. Sessions are 50 minutes in length and are by appointment only.
During their weekly individual therapy sessions, clients will have more one-on-one time with their primary therapist, to concentrate more deeply on treatment plan goals or address any personal issues or concerns they don't feel comfortable sharing in a group setting.
Click to meet our team of caring, experienced professionals.
Psychiatric Assessment/Medication Management
Initial psychiatric evaluations, follow-up appointments, medication management and other services are provided on an individualized, appointment-only basis via referral to our partner psychiatric nurse practitioner. Medication Assisted Treatment (MAT), which may include the use of Naltrexone, Vivitrol or Suboxone, is also available on an individualized basis.
Random Drug Testing (Breathalyzer and Urinalysis)
This invaluable part of the treatment program not only helps to keep clients safe but adds a layer of accountability that makes many on-site clients feel more reassured and successful. This tool also helps family members and others feel more confident that the clients in our treatment program are safe and "doing the right thing" on a consistent basis. In other words, it provides peace of mind for all concerned, allowing everyone to focus on positive, lasting change. Note: remote/virtual treatment clients that cannot be tested on-site may make other arrangements, such as private laboratory testing, if desired.
Don't wait any longer to take the first step towards a better life!
Call 954-552-5100
or complete our contact form